Waycross Fire Department History
History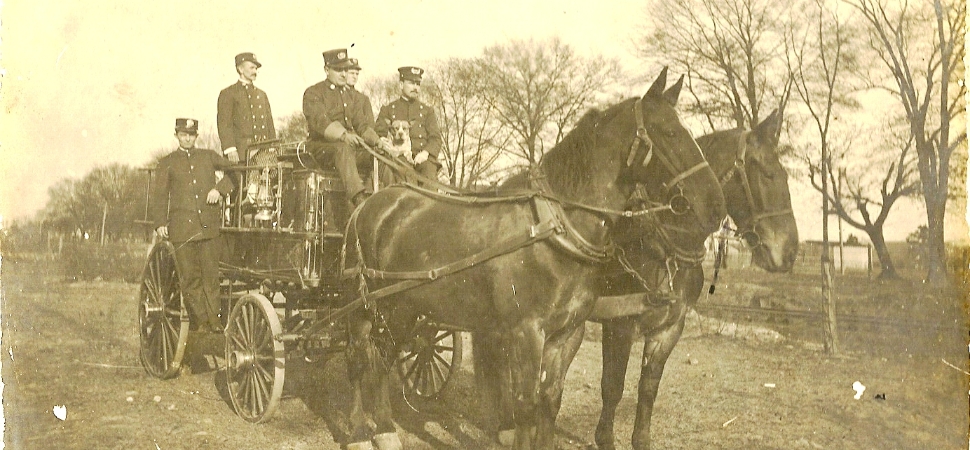 The Fire Chief pictured on the front right with the dog is Chief Mitchell Joiner who was elected as Fire Chief in 1910.
In the November 25, 1885 edition of the Waycross Headlight, a one-sentence statement appeared. "No fire company has been organized up to this date, neither have we seen any signs for the building of a theatrical hall." A few years later the Waycross Reporter ran a story in January 12, 1889 titled "Something Needed." The article's author was passionate and concerned about the growing city of 3,000 inhabitants called Waycross. The need that the author gave attention to was for a fire department to be organized.
J.P. Ulmer, a blacksmith by trade and employed at the repair shops of W.G. Burney, began to circulate a subscription paper to raise money for a hook and ladder outfit. His efforts had promises of nearly $60 when first sent out. Encouraged by the actions of Mr. Ulmer, a group of concerned citizens gathered and organized the Waycross Fire Department on Tuesday night, April 23, 1889.
The name of the newly organized fire company would be known as the Waycross Hook and Ladder Company #1. J.P. Ulmer was elected Chairman and Foreman (this position is the Fire Chief today) of the new fire company, making J.P. Ulmer the first fire chief of the Waycross Fire Department.
The original 18 members of the Waycross Hook and Ladder Company #1 were:
J.P. Ulmer
W.J. Gassett
R.A. Baker
C.H. Gray
H.A. Culpepper
L.M. Buchanan
Frank Bailey
C.M. Sweat
W.D. Scott
M.J. Henry
J.P. Lanier
R.T. Williams
J.L. Wildes
J.F. Gassett
C.B. Tatem (Tatum)
A.L. McQuaig
J.B. Strickland
The following officers were elected by acclamation:
J.P. Ulmer,
Foreman
J.B. Strickland,
Assistant Foreman
G.T. Nungazer,
Treasurer
J.P. Lanier,
Secretary
In the City Council meeting held January 20, 1892, came the report that a chemical fire engine had been purchased by the City of Waycross from the Holloway Chemical Fire Engine Company. The new fire engine would be named R.G. Fleming in honor of Captain R.G. Fleming, General Manager of the Savannah, Florida & Western Railway Company. An enquiry was made by the Mayor to Captain Fleming to have the new engine shipped by rail. Captain Fleming replied that not only would he have the new chemical engine shipped free of charge on his rail line, but that it would be shipped free of charge from Baltimore, Maryland. The cost of the chemical engine was $1,800.
It appears the City of Waycross decided to purchase the chemical engine over a steam engine because of the lack of a waterworks system. The chemical engine was described as a Double Sixty Gallon Tank Four Wheel Chemical Engine. The chemical engine was best suited for incipient fires and to help prevent the spread of fire, but would not be of use if the fire had gained large size.
At a called meeting on April 4, 1892, the city council appointed Alderman J.G. Justice as Fire Chief and Alderman R.H. Murphy as assistant chief. A petition was presented by Mayor Knight from 56 residents requesting approval to organize as a volunteer fire company. The matter was turned over to the new fire chief. The City Attorney was directed to prepare an ordinance organizing a fire department for Waycross. Within a few days Chief Justice held a meeting with those interested in organizing the volunteer fire department. Elected as officers were: J.K. Nelson, president; J.M. Smith, vice-president; T.L. McKay: 1st foreman; A.C. Olney, 2d foreman; W.G. Dekle, 1st engineer, A. Smith, 2d engineer; E.S. Paine, 3d engineer. The position of foreman has now changed from fire chief to a fire officer. The new chemical engine arrived in Waycross and was put through its paces on April 4, 1892. There were no paid positions in the fire department.
At the City Council meeting on April 18, 1892, the members of the Waycross Hook and Ladder Company #1 offered to provide the city with the money that they had collected by subscription in exchange for the city furnishing the balance to purchase the Hook and Ladder apparatus for the company. That's right, the Hook and Ladder Company #1 had been collecting money since 1885. The first annual report on the new Waycross Fire Department to the city commission came on February 1, 1893 and was given by Chief Justice.
Waycross, Ga. February 1st, 1893
To: Honorable Mayor and Board of Aldermen, City of Waycross
Gentlemen, I herewith hand you my report for the year 1892.
After arrival of the Chemical Fire Engine, a Company was organized consisting of 25 members, with Mr. J.K. Nelson as President, Mr. J.M. Smith, Vice President, Mr. T.L. McKay as foreman. The first fire that occurred after organization of this Company was the burning of the house of Mr. Thomas Peach in "Old Nine". The chemical arrived at the fire somewhat late owing to the distance but did very good work after reaching the scene of the fire, saving the house of Mr. W.H. Sims which was very close to the burning building. Mr. Peach's house was totally consumed and Mr. Sims' slightly damaged. Both houses were insured. This fire occurred Friday, May 27th, 1892. The next call made on the department was on Sunday, August 28th, 1892. The house of Styles Scarlett (Col) on the extension of Reynolds Street east was entirely consumed. On account of the situation of this house, the chemical was not able to reach it and the Engine was ordered back to quarters. The third occasion on which the Engine was called into service was Saturday, November 5th, 1892. The one-story frame kitchen attached to the house occupied by Mr. W.B. Garret and owned by Mr. H.A. Renfroe was discovered to be on fire. The Chemical responded promptly and the fire was extinguished quickly. The damage was very slight and the building being insured, there was no loss.
So far, the Engine has proven itself to be all that the manufacturers claimed for it. I would recommend as additions to the fire department two hose companies of about 14 men each and one hook and ladder company. These should be put into service at as early a day as possible. We have been very fortunate in regard to fires in the past, but fires are liable to occur at any time with which our present small fire department would be unable to cope. For this reason, I think above additions to the department should be made at an early day. I also recommend the purchase of a suitable harness for the Chemical Engine, same to be suspended in the Engine house by patent arrangement which allows it to be dropped on horses almost instantly. The City should have two good horses drawing the garbage carts, the drivers of which should be instructed to leave their carts and hurry with the horses to Engine house immediately on alarm of fire being given. I also recommend adoption of some suitable fire alarm device, same to be chosen by your honorable body.
Respectfully Submitted
J.G. Justice, C.F.D.
In Memory
In Memory
In Memory – Line of Duty Death

Jeff Little

Firefighters responded to the call to a fire at 1005 Isabella St., close to the Nichols Street intersection, at 20 minutes after midnight Sunday morning, December 15th, 2013. Lt. Jeff Little, 50, died at Mayo Clinic Health System at 3:17 a.m. Sunday. He was taken there by ambulance after a ceiling collapsed on him in the unoccupied house where he was checking for hot spots after the fire had been effectively extinguished.

Little's public safety career had begun in 1981. After graduating from Sylacauga High School in Sylacauga, Ala., he attended Trenholm Technical College where he obtained his EMT-paramedic certification working in the private ambulance field. His fire service career started in April 1984 with Childersburg Fire and Rescue in Childersburg, Ala., which is near Sylacauga. He was a fire-medic initially and worked up through the ranks, holding several different positions. In 1993, he was promoted to the rank of captain and Emergency Medical Services director and was responsible for the daily operations of the department's paramedic rescue unit and three advanced life support transport units. In 1998 he became administrative captain/hazardous materials director. As haz-mat director, he directed the Level-A Hazardous Materials Response team.

As a training officer, he conducted fire and EMS training for the department's career and volunteer firefighters and paramedics which ensure compliance with state and national continuing education guidelines. Jeff held National Professional Qualifications Board (NPQ) certificates as Firefighter I and Firefighter II, fire and EMS instructor, fire investigator and hazardous material technician. He was also a self-contained breathing apparatus specialist, also known as a "Smoke Diver."

In Memory – Line of Duty Death

Jesse L. Crawford

Jesse L. Crawford had a heart attack while working on a house fire at 804 Gilmore Street on July 26, 1963. He was pulling hose for firefighters inside the house when he fell to his knees in the yard from the heart attack. He was taken to the hospital and died there on August 7, 1963.

In Memory – Line of Duty Death

Emmet J. Cook

Monday, June 6, 1955, at 7:28 PM, the Waycross Fire Department would again suffer a tragic loss. At the intersection of Tebeau Street and Brunswick Avenue, while responding to a call to 1210 Fair Street, the fire engine that Firefighter Emmet J. Cook was on was hit by Atlantic Coastline Passenger Train #17. Emmet was taken to the Ware County Hospital. He died 2 hours and 22 minutes after the accident. He was riding on the rear of the firetruck.

Firefighter I.D. Cornelius had stepped on the engine next to Emmet but stepped back off to stay with Houseman Fred Henderson in case a second alarm came in and they would have to man the third engine.

Fire Chief Ralph Carpenter went on to the house, not knowing what had just happened to his firefighters. He found a small fire behind the stove and extinguished it. It was not until he called to find out why the engines had not arrived that he learned of the tragedy.

Firefighter Cook was born and raised in Chattahoochee County, Georgia. He worked with the Columbus Fire Department before becoming a member of the Waycross Fire Department. He had been a member of the Waycross Fire Department for 4 years. Firefighter Emmet Cook was 48 years old. He was laid to rest in Oakland Cemetery.

In Memory – Line of Duty Death

Capt. Edsel Taylor

Monday, June 6, 1955, at 7:28 PM, the Waycross Fire Department would again suffer a tragic loss. At the intersection of Tebeau Street and Brunswick Avenue, while responding to a call to 1210 Fair Street, the fire engine that Captain Claude Edsel Taylor was on was hit by Atlantic Coastline Passenger Train #17. Captain Taylor was reported to have been riding on the right running board of the fire engine. He suffered major injuries and was taken to the hospital where he died Wednesday morning, June 8, 1955. He was 27 years old.

Captain Taylor had been with the Waycross Fire Department for 5 years and served as Captain for 1 year. He graduated from Wacona High School in 1947. After graduation he served in the U.S. Army from 1947 to 1949. Captain Taylor organized the first Boy Scout troop in his home community of Waresboro. He was laid to rest in Oakland cemetery.

In Memory – Line of Duty Death

Ike Register

On Tuesday afternoon, February 3, 1942, I.M. "Ike" Register and Billy Ulmer had reported back from supper just in time to catch the second alarm to a call on Carswell Avenue. As they came to the intersection of Carswell Avenue and Nicholls Street, a vehicle traveling south on Nicholls Street moved into the path of the fire engine driven by Ike. Eyewitness accounts stated that Ike tried to avoid the collision by swerving to the left but was unable to prevent the accident.

The results of the collision caused the fire engine to flip straight over and land on the southwest corner of the intersection. Billy Ulmer, who was 64 at the time, was thrown from the fire engine but survived. Unfortunately, Ike Register was pinned under the flipped fire engine. It was reported that he died instantly.

Ike Register was 51 years old. He was one of the first men in Waycross to enlist for World War I where he served with the 106th Engineers Division.